In this Discussion Paper Laura-Kristine Krause addresses the source of this paradox and offers a concept of digital democracy as a combination of the dimensions information, participation and transformation.
In urging to see digitalisation as a process reaching beyond the digitalisation of former analogue processes, it lays out four paths towards implementing and seising the opportunities of digital democracy in Germany.
About the author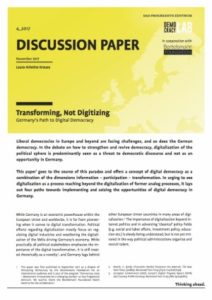 Laura-Kristine Krause is Head of the Programme "Future of Democracy" at Das Progressive Zentrum, a Berlin-based, independent think tank. Previously, she worked as a public affairs consultant in Berlin, focusing on thedigital and financial sector. She is Co-Chair-woman of the grassroots think tank D64 – Center for Digital Progress and fellow of the 2017 Transatlantic Digital Debates. She published on digital policy, party reform, and women in politics.
About the Democracy Lab of Das Progressive Zentrum
The Democracy Lab is the platform for projects on innovating democracy at Das Progressive Zentrum. The Lab hosts, fosters, and connects projects that generate ideas and practical approaches on how to innovate liberal democracy and to enable political actors and institutions. The projects span different disciplines, countries, and regions and are realised in cooperation with a multitude of partner organizations.
The Democracy Lab deals with questions of digital democracy in the context of the project "Democracy 2025 – Democratic innovations for a changing society", funded by the Federal Ministry for Family Affairs, Senior Citizens, Women and Youth as part of the federal programme "Demokratie leben!"